We are bringing you an exciting update to the MightyFields web and mobile platforms, bringing new features which will allow for a more efficient and smoother workflow. Let us take a closer look at what the new update brings to you: 
Scheduler
#1 Unassigned tasks explorer 
You can now see unassigned tasks on your mobile device. The tasks can be seen if you have the skills and competencies to perform them. So, if you do not have any assigned task (for example, cancellation of appointment, you finished work faster), you can find additional tasks, close to your current location and accept and execute them. Tasks can be displayed in a list format or on a map.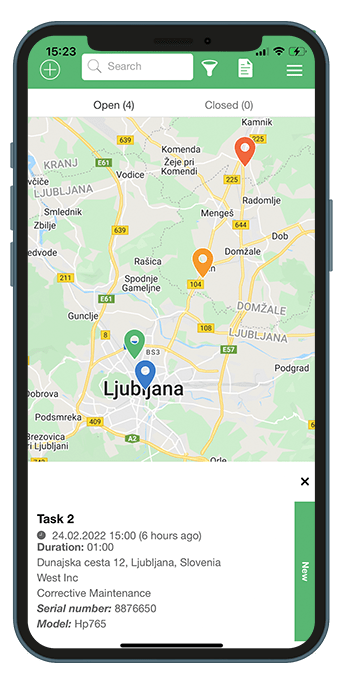 #2 View tasks on map 
Tasks that are created through scheduler and have a specific location are displayed on a map on your mobile device. You can choose between a list format and a map view. A map overview makes it easier to plan activities, as you can adjust the execution of tasks by location.  Read more on how to set up map view.

#3 Assign tasks to a group of users  
An individual task can be assigned to a group of users, then one member takes over the task and performs it. The tasks are distributed via a special view of group tasks in scheduler. The task can be assigned to a group whose members have the competency to carry it out.  On the home page of a mobile device, you can see unassigned tasks of the group. By clicking on a task, you take over the task and do the execution. The advantage is that you and your group can schedule tasks on your own.  
Mobile application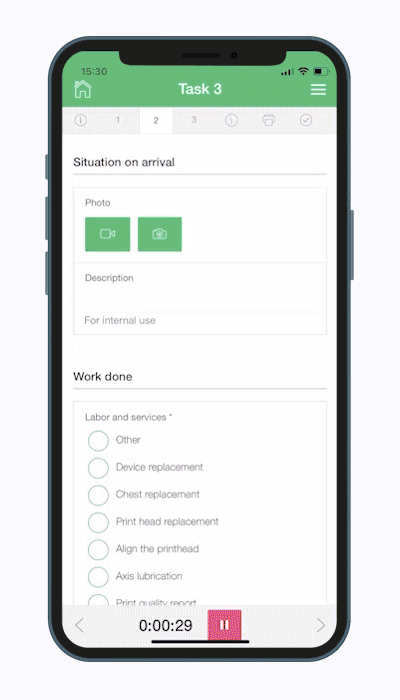 #4 Add multiple images from gallery 
With the new functionality, you will be able to save many clicks, as the app allows you to capture/ select multiple photos from the gallery.  
#5 Notification when tasks are reopened  
You will receive a notification on your mobile device when a case on which you have previously worked is reopened. This ensures that the task is not overlooked and that you are notified why the task is open again.  
Task overview
#6 Extended title is displayed on task list and in scheduler  
Extended titles are now available for review in the studio. On the overview page of all tasks, you can now see and filter by additional task data and this information is also displayed on the scheduler when viewing (un)assigned tasks. This allows for easier browsing of tasks based on various data, such as serial number, machine name, type of repair, etc.  
Content creation
#7 Automatic document creator 
You can now create a document with just one click. It is possible to add all the fields of the form by clicking on a button on the document. This simplifies and speeds up the creation of the form. Additionally, it is also possible to set a new document to be re-generated each time the form is updated. 
#8 Form design preview when creating  
When creating a form, it is now possible to see the preview in the web application. This way you can immediately see and test the changes on the form. 
#9 Drop-down can be used as input for calculation  
The value from the drop-down field can be used in the calculation field. Useful for the case when we want to calculate the value from the set of answers. 
Administration
#10 User groups  
Users can be divided into groups. Groups are created in administration, and you can assign existing and newly created users to the appropriate group. Form access rights can now be set to a group or individual user, making administration easier if a new user or the existing user tasks are changed. It is also possible to filter users by group in scheduler. 
#11 New user classification 
A new level of user rights – creator – has been added. Creators can create forms (form templates, documents, code lists, actions) and create and schedule tasks. 
#12 Italian language  
The MightyFields mobile and web application are now also available in Italian. Currently, the MightyFields app supports Slovene, English, French, Dutch (mobile application only) and now Italian. 
Behind
the curtain
#13 New public API's  
Public APIs have been added, for integration at the level of administration (users, groups) and code lists. All APIs are available at https://apiv2.mightyfields.com. 
#14 KeyCloack  
The MightyFields application can be integrated with the KeyCloack user management application. This allows you to log in with a single password to all related applications. 
Enter your e-mail to connect with our team